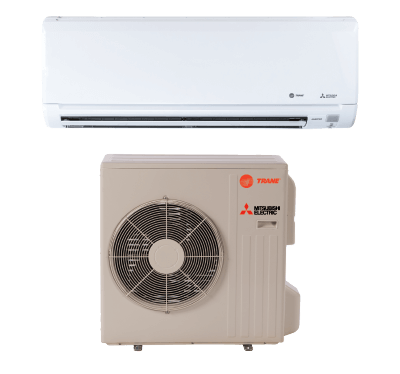 Ductless systems allow for flexibility. Ductless systems connect an outdoor unit with an indoor unit to heat or cool a home without the use of ductwork. Single- and multi-split systems are available to control the temperature of one or multiple rooms of your home. Ductless systems let you install temperature control solutions where ductwork doesn't currently exist.
Zone Comfort
What are your temperature control needs? Single-Zone systems affect the climate of one area of your home, while Multi-Zone systems affect many. A single-zone (also called a mini-split) ductless system allows you to control the temperature of one room by connecting an outdoor unit to an indoor unit, with no ductwork needed. An outdoor mini-split unit is placed outside your home and is connected to an indoor mini-split unit by small cables and a refrigerant line through a hole in the wall. This option is ideal if you only need cooling and heating in a single space.
With multi-zone equipment (also called a multi-split), one outdoor unit can connect up to eight indoor units. A multi-zone ductless system connects an outdoor unit to one or more indoor units, letting you control the temperature in several different zones of your home. Variable Refrigerant Flow (VRF) systems are a type of multi-zone ductless systems. VRF systems are energy efficient, and they can be used to heat one zone while cooling a different zone at the same time.This option is perfect if you need cooling and heating in multiple spaces with different functions, such as a nursery versus a kitchen or an office versus a conference room.
One of the best warranties in the business.
Most products that are installed and registered by a Ductless Pro Contractor* within 90 days of installation receive a 12-year parts and compressor warranty.
*Trane Ductless Pro Contracors are independent specialists who are qualified by Trane to find the best personal solution for your home. They are licensed installers and are certified in the latest product advancements of our cooling and heating systems.